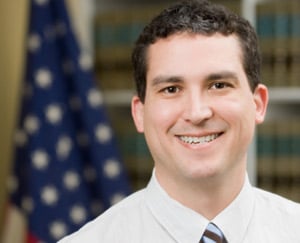 This week, we'll continue our short series introducing you to our VA Disability attorneys. Military servicemembers and their families understand that military cases are uniquely complex and may require hiring an attorney who understands the ins and outs of military culture, code, and law.
That's why we here at Bluestein Attorneys believe it's so important to provide these introductions. This way, when you walk in the door for your free consultation, you'll feel like you've already met our attorneys and know just what to expect.
Next up in our series is Kenny Dojaquez.
Can you give us a brief introduction and description of your military service?
I was commissioned through West Point, and served as a Tank Platoon Leader and Company Executive Officer in South Korea, then moved to Fort Knox, KY and trained new Cavalry Scouts.
I returned to Korea and served as a training officer for the 2d Infantry Division. I spent the remainder of my service in the 3rd Infantry Division at Fort Stewart, GA and in Iraq.
I deployed to Iraq in 2003 and in 2005. I served as a Troop Commander leading over 100 men in Baghdad. While there I trained the Iraqi Police, trained the Iraqi Army, and was responsible for securing Airport Road.
Is there any advice you would give current active-duty military servicemembers to help them be prepared to navigate possible issues with the VA in the future?
The main advice that I would give any active duty personnel right now is to make sure all your medical conditions and injuries are documented and that they maintain a copy of their own medical records. Having these conditions documented while in service will help the veteran with the VA if those problems become bigger problems down the road, which more often than not they will be.
It's amazing, in even today's military, how prevalent the "tough it out" culture is. There are still many units and many people who look at going to sick-call as a weakness. We have come a long way in that regard, but we still have a long way to go.
The medical records database in the military is light-years better than what it used to be. With that in mind, it is not hard to have your medical records updated and kept current. Without evidence of an injury, condition, or disability occurring in service it is often times very difficult to even get a VA claim off the ground.
So get those conditions and injuries documented!
I would add to ensure all conditions are claimed as soon as possible.
We deal with a lot of veterans who had slight injuries in service that were bothersome during the first 10-20 years post-service. By the time they try to get the condition service-connected there are no records for many years.
Additionally, many veterans wait until they can no longer work, or are very limited in their ability to work, before filing claims. The closer to service you file your claim the easier it is to prove. Plus, it is much easier to prove your condition has worsened than it is to prove – after 30 years – that your condition started in service.
(For further information on filing VA disability claims, see our earlier blog posts here.)
Would a veteran need to have been honorably discharged in order to file a claim?
There are many exceptions to this general rule. The law says a veteran may be eligible for benefits if the discharge is "other than dishonorable." Dishonorable is a very narrow group of all discharged veterans.
How does the Bluestein Attorneys VA team approach its representation of its clients?
Veterans are more than just clients to us. We take their pain personally because we've been there and we know what it's like to march in those boots. As such, we're motivated each and every day to do our very best as a small thank you for the service of the men and women who sacrificed so much in service to our country.
We'd like to thank Kenny for taking time out of his day to give us a little more information on his time in the service and feelings on practicing law on behalf of military service members and veterans. Kenny's dedication to helping veterans receive the benefits they are entitled to gives him a focus and determination that helps his clients feel at ease. We're proud to call him a member of Bluestein Attorneys' SC Vet Advocates team.
Whether you're looking for someone to help you in your dealings with Veterans Affairs, are dealing with insurance bad faith, have been charged with a first-offense DUI, or are having other legal issues, Bluestein Attorneys is here to help!
Give us a call at (803) 779-7599 or contact us online at any time to request your free consultation today!