Have You Been Injured on the Job?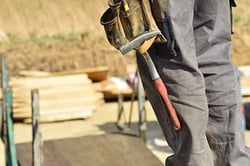 Have you suffered a workplace-related injury or occupational illness?
If so, you may be entitled to weekly compensation for the time you're out of work, free medical treatment related to your injury, and compensation for any permanent injury you may have.
Bluestein Attorneys represents injured workers and their families across South Carolina, and we will work with you to ensure you get the benefits you're entitled to under the law.
Workplace-related injuries and on-the-job illness include but are not limited to:
Slips and falls
Injuries as a result of a defective products in the workplace
On the job car wrecks
Traumatic brain injuries
Back, shoulder, and knee injuries
Occupational illnesses
Mental injuries
If you've been injured on the job or made ill due to workplace conditions or events, you deserve dedicated representation.
Just fill out the form to the right to request your free Workers' Compensation consultation in Columbia, SC.